USC Football Reminders-Sept 9-10
There are two football games at the Coliseum this weekend: the USC Trojans take on Stanford this Saturday at 5:30pm.  The Los Angeles Rams will face the Indianapolis Colts in their season opener this Sunday at 1:05pm.
GAME DAY REMINDERS
NEW for 2017: In addition to the normal reminders below, there are a number of new restrictions this year.  PLEASE NOTE the following:

No tailgating or open alcohol containers of any kind are allowed in the new USC Village.
No vehicle parking along Trousdale, including Electric carts.  The departments of Public Safety, Fire Safety, and the LAFD will be enforcing this request due to many vehicles blocking fire lanes and creating other safety concerns.
The center of campus is closed to ALL vehicle traffic, including loading dock areas.
Electric carts should only be driven for official business purposes.  Many employees appear to be using departmental electric vehicles for personal use on game days, which is not permitted.

As always, we expect significant traffic and area congestion on football game days, from approximately noon-11:00pm on Saturday, and from approximately 10:00am-6:00pm on Sunday.  If you do not need to come to campus this weekend, we strongly encourage you to stay out of the area.
As always, USC permits are valid on game days in our system, but you may be required to park in a different location that your permit indicates if your location is full when you arrive.
USC Transportation will be coordinating with LADOT, LAPD, Metro, and many other agencies to close area streets after USC & NFL games to facilitate faster egress from the Coliseum.  The closures will go into place at the end of the third quarter and extend until approximately one hour after the game ends.
Campus Cruisers service will start later than normal on Saturday due to the game, at 10:00pm (~4.5 hours after kickoff).  Service will start at the normal time on Sunday (6:00pm).
The weekend Intercampus Shuttle service begins this Sunday, Sept. 10th; we do expect traffic delays due to the Rams game and thank you in advance for your patience.  Complete information on this route can be found on our website by clicking here.
For complete game day information, visit the USC Athletics Game Day page by clicking here.
Thank you in advance for your cooperation; please let us know if you have any questions or concerns.
Lyft Account not Working?
Is your Lyft account not working? Please make sure you have activated your account through the invitation sent by Lyft.  Once this has been done, your promo section in the Lyft app will look like this: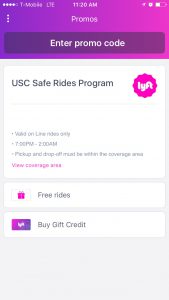 When scheduling your ride, it is important to note that our program works only in PERSONAL mode and only works on Lyft Line rides.  To ensure you are requesting a ride correctly, please make sure your request screen is set to the settings shown in this photo: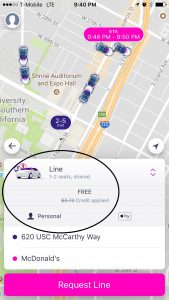 If you did not receive an invitation, please contact Michelle Garcia at garciaml@usc.edu
Thank you!!
UPC Construction updates, week of August 7
Please make note of the following construction projects impacting gates and traffic at UPC this week:
East side of McClintock Avenue will reopen on Friday, August 11 at 3:00pm
Royal Street Entrance (formerly Entrance 4) reopens on Saturday, August 12 at 6:00am. The exit side will remain closed for further construction; guests exiting the structure can use the northeast exit onto Jefferson Blvd. eastbound
Football Game Day Policies
Have a question about the do's and don'ts on football day?  You may find the answers right here!  Game Day Guide
USC Transportation in the news!
We recently wrote a story about the happenings at USC Transportation for an industry-leading publication, Parking Today.  We hope you enjoy the attached article!
Transportation Service Reminders for Fall
Fall is back! For a list of popular services we offer, including when they start up again, click on "continue reading" below.
Three new bicycle repair stations at UPC!
USC Transportation has added three new bike repair stations to UPC! Click "continue reading" below for complete details.
Monthly Transit Raffle Winners – FY17
To see the list of monthly transit raffle winners, click on "continue reading" below!
Transit Subsidy/Rate Increase FAQs
Have a question about the recent program change emails from Transportation? Answers to some FAQs are here - just click on "continue reading" below.
Follow USCBuses on Twitter
Wondering why the bus is late? Follow us on Twitter or sign up for text alerts
Intercampus Parking Policies
If you have a UPC permit, where/when can you park at HSC? Or vice versa?